SMS123 - SMS messaging from Notes and Domino
Faster, smarter, at any time and place!
Why send email when you can send SMS?

SMS123 is a Domino application which gives users an easy interface to SMS text messaging from both Lotus Notes client and web browser.

User is not required to have a mobile phone to send a SMS message from SMS123.

SMS123 supports sending SMS messages through several Internet gateways and also through GSM modem/cell phone connected to the computer.

With SMS123 application, Domino developers get a set of easy to use LotusScript API. With help of the API they can easily add SMS functionality to other Domino applications.

Check examples section for screenshots and request fully functional online demo with 30 free SMS messages.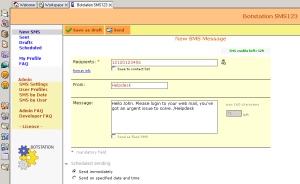 What is SMS
SMS (Short Message Service) is a service available on most mobile phones that permits the sending of short text messages to other mobile phones.